Click To Enlarge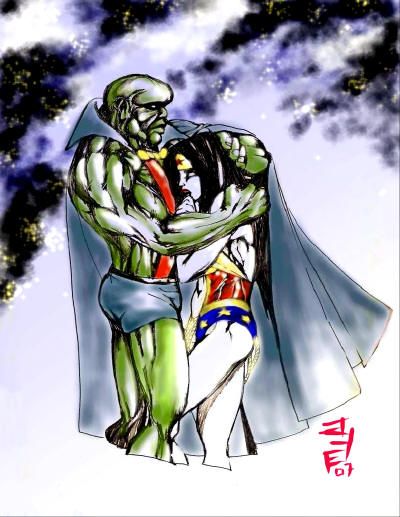 "I got hold of a friend's JLA collection and in so reading I realized that J'onn J'onzz and Diana of Themyscira were the two loneliest characters there.

J'onn because Mars and his whole green race got fragged by white martians. I think that in itself is a metaphor for imperialistic tendencies of developed nations..but I digress.

Diana because Paradise Island ( and her Gods ) disappeared back behind the Veil and left her to find a new purpose.

I was remembering that Journey song when I read the comics so, that's what I called this piece.

Ahh..... comics are so complicated now."
I really like the intensity of the emotions and the linework on J'Onn in this piece. See the original black & white art
here
.