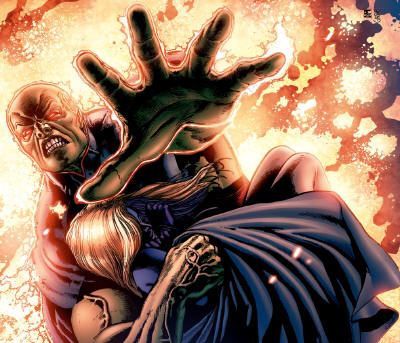 In mid-October of last year, a Comic Book Resources message board user called Movieartman
asked his fellows
which artist, exempting DC fan favorite Ivan Reis, they would like to see draw a Martian Manhunter ongoing series. Twenty-six users voted on the poll he set up, with no votes going to
Eddy Barrows
,
Dale Eaglesham
, Jason Fabok,
Guillem March
,
Rafa Sandoval
,
Paulo Siqueira
, or David Yardin. Personally, I'd be quite happy with most any of those guys. Interestingly, a
separate poll
for Guillem March's next project saw the Manhunter from Mars in a three-way tie for second place. At single votes each were
David Finch
and
Miguel Sepulveda
, who have each worked on ongoing series featuring the Alien Atlas in the New 52. At two votes each were
Jae Lee
,
Phillip Tan
and
Ethan Van Sciver
, which I figure to be pipe dreams anyway.
Francis Portela
pulled in an extra vote over them. Far and away the favorite at nine votes was
Doug Mahnke
, who drew the single most popular issue of the only ever
Martian Manhunter
ongoing series, and drew him extensively during his run on
JLA
and beyond. While I enjoyed the fill-in artists, I was a bit miffed that we didn't get Mahnke for much of the Manhunter/Stargirl story arc in
Justice League of America
, as we were initially promised. Write-ins included
Fernando Pasarin
, Alberto Ponticelli, Darwyn Cooke, Tom Mandrake, and Cliff Chiang.
Brett Booth
and Scott McDaniel got one yay and one emphatic no each, sort of canceling each other out. Patrick Gleason and Francis Manapul came up several times.