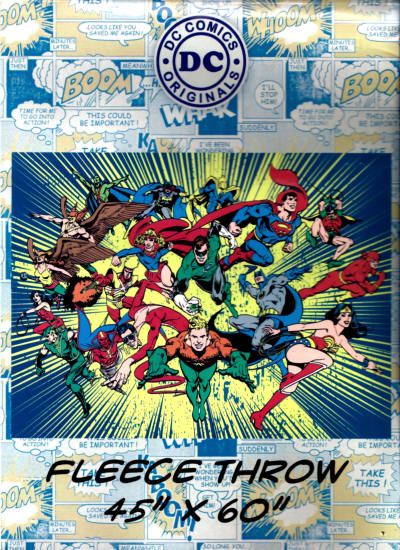 Brought to you by Toon Labs Ink,
a division of Classic Imports, Inc.
2018 Great Trails Drive, Wooster, OH 44691
This is the blanket I mentioned using to protect my art portfolio from heavy rain as I made my escape from
Comicpalooza 2014
. My best buddy bought it for me from Half Price Books on Sunday, but I didn't want to carry it along with everything else. He came back on Monday to buy one for another friend, and I fortuitously took
that
one off his hands. The photo below was taken on a chair at George R. Brown Convention Center ahead of my pulling the cover out of its packaging for a whole other type of covering than the manufacturer intended. It hung on a little black hanger.
Here's the reverse side of the blanket with the tag showing. The throw laid around my living room for a few days before I straightened it out on the floor, went upstairs, and took these pictures. Mine cost $14.99, but they're on Amazon for a little less than that, while other online outlets charge over $35.
This 100% polyester throw features Aquaman, Batgirl (Barbara Gordon,) Batman, Doctor Fate, Firestorm, Flash, Green Arrow, Green Lantern Hal Jordan, Hawkgirl, Hawkman, Martian Manhunter, Plastic Man, Red Tornado, Robin, Supergirl, Superman, Wonder Girl (Donna Troy,) & Wonder Woman. It all looks to be early 1980s José Luis García-López stock art. J'onn J'onzz may seem small in the picture, but he's about 4" x 6" in reality. The throw is thin, but seems fairly well made and quite soft to the touch.
I figure they call it a throw because it's too small for an adult to sleep under, but it's fine for lying on the couch or draping over your shoulders while seated at a chair typing a blog. I guess it might work for younger children, but they are just going to have to make do with Spongebob Squarepants, because you do not get to spill sticky crap all over the DC pantheon, you little brats.
Click To Enlarge