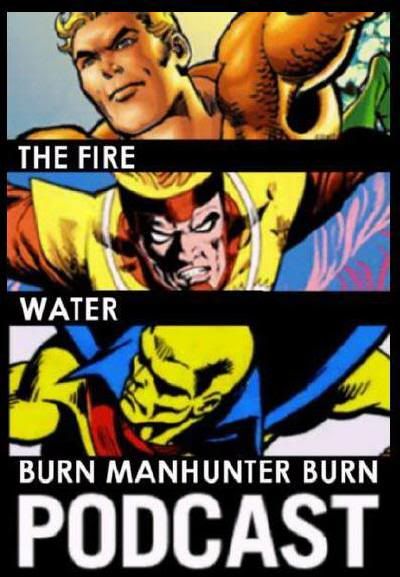 LISTEN NOW!
Back in September, Rob Kelly of
The Aquaman Shrine
and Shag Matthews of
Firestorm Fan
teamed-up for
The Fire and Water Podcast
, a weekly program available through iTunes. I enjoy both these fellow's blogs and have gotten a kick out of their podcast. I leave comments on each episode, which often get read and responded to during their reader feedback segment. The duo recently decided that it might be fun to bring in some of their blogging friends for guest appearances on the show. After getting vetted by Shag to make sure my voice didn't sound like nails on chalkboard, I got the nod to be their first such guest.
The central theme of the podcast is "War of the Worlds: 1984," the monumental story that brought the Martian Manhunter back to monthly comics after sixteen years without a regular series. We decided that Rob would synopsize the first chapter from
Justice League of America
#228, Shag would cover the middle, and I'd close out with #230. These issues have yet to be covered on this blog, even though they featured the first appearances of
The Marshal of the Soldiers of the Red Brotherhood)
and
Hunter Commander J'en
, plus the return of
Bel Juz
and restoration of J'onn J'onzz's JLA membership. It's a must read for all Manhunter from Mars fans, and a lot of fun to discuss.
To be honest, I wasn't too impressed with my performance on the program. I stammer, talk too fast, and repeat myself a lot. I also hijack the second half with a breathless overview of the Alien Atlas' adventures, and I'm fairly bursting with over-excitement and an excess of information. Rob and Shag were good sports, and I'm impressed that they knock out so much of the show in one long take. It's harder than it sounds, and you'll be able to contrast my fumbling with their veteran finesse. Still, we had a lot of laughs, and this is the closest you folks are likely to ever get to a spotlight podcast for the Sleuth from Outer Space.
You can find the fourteenth episode of
THE FIRE AND WATER PODCAST on iTunes
. While you're there, please drop the guys a review on the iTunes page. Every comment helps! Alternatively, you may download the podcast by
right-clicking here, choosing "Save Target/Link As", and selecting a location on your computer to save the file
(45 MB).
I also recommend trying "back issues" of the podcast, and offer a linklist below:
Episode 1
: Pilot
Episode 2
: New Justice League/Dragon*Con 2011!
Episode 3
: Mission Statement/Favorite Runs/News/Borders Requiem/Listener Feedback
Episode 4
: The Fury of Firestorm #1/Aquaman #1/
Episode 5
: NYCC 2011/Firestorm Rumors/Batman: Brave and the Bold
Episode 6
: Fury of Firestorm #2/Aquaman #2/ Geoff Johns/Gail Simone
Episode 7
: "Crisis on Earth-Prime!"/JLA Blogs
Episode 8
: Aquaman #3/The Fury of Firestorm #3
Episode 9
: Christmas Comics/Killer Frost
Episode 10
: Fury of Firestorm #4/Aquaman #4
Episode 11
: Yildiray Cinar/Firestorm and Aquaman merchandise
Episode 12
: Aquaman #5/The Fury of Firestorm #5
Episode 13
: Legendary Aquaman artist Nick Cardy