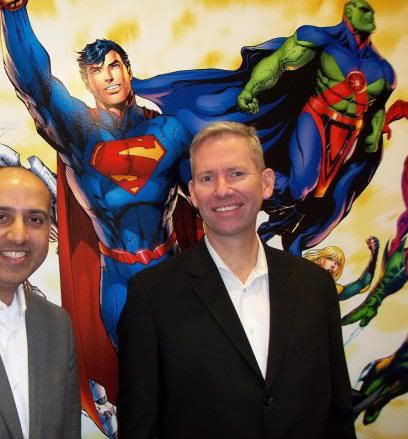 Before we even get started on the books, what the hell is this? There was a party to celebrate the unveiling of the latest DC Entertainment logo a couple of months ago, but I never noticed the enormous mural featuring New 52 versions of DC heroes, including a heretofore unseen Martian Manhunter that appears to be from the pen of Patrick Gleason. You can see more of it at
Co.CREATE
, and if someone out there could direct me to the full piece, I'd appreciate it.
GREEN LANTERN: RED LANTERNS #10
PETER MILLIGAN
Art and cover by MIGUEL SEPULVEDA
On sale JUNE 6 • 32 pg, FC, $2.99 US • RATED T+
Retailers: This issue will ship with two covers. Please see the order form for more information.
• Welcome new artist MIGUEL SEPULVEDA
• Continued from last month's STORMWATCH #9!
• BLEEZ and the rest of the surviving RED LANTERNS head for ZAMARON to confront the STAR SAPPHIRES about their role in the poisoning of the RED POWER LANTERN.
Let me get this straight: The new writer of Stormwatch starts his run with the first part of a story that crosses over into a better selling title he launched that just lost its hot artist, who is being replaced by the former artist of Stormwatch that was helping to buoy its sales. Is this mean to broaden Stormwatch's audience or cannibalize it? Also, I don't really want to read about the Red Lanterns at all ever. Frig.
STORMWATCH #10
PETER MILLIGAN
Art by IGNACIO CALERO and SEAN PARSONS
Cover by MIGUEL SEPULVEDA
On sale JUNE 6 • 32 pg, FC, $2.99 US • RATED T+
• Welcoming the art team of IGNACIO CALERO and SEAN PARSONS as a new epic begins!
• HARRY TANNER returns to take on STORMWATCH!
• More secrets of the team's past are revealed!
I haven't received the new issue yet, but I'm seeing and hearing good things. Maybe a completely new creative team will leave us with a book closer to what many of us hoped for in the beginning. At least the covers have gone back to including Martian Manhunter as part of a core trinity (for now.) I'm surprised they're going back to the Harry Tanner well so soon, though.
JLA VOL. 2 TP
GRANT MORRISON
Art by HOWARD PORTER, GARY FRANK and others
Cover by HOWARD PORTER and JOHN DELL
On sale JULY 11 • 320 pg, FC, $24.99 US
• The JUSTICE LEAGUE facing off against LEX LUTHOR'S newly assembled INJUSTICE GANG while the fate of the Earth hangs in the balance.
• Collects JLA #10-17, PROMETHEUS #1 and JLA/WILDCATS #1.
This one's got "Rock of Ages," the Prometheus two-(3?) parter, and an amusing (then) intercompany crossover. J'Onn's got his moments here.
Miss Martian
YOUNG JUSTICE #17
KEVIN HOPPS and GREG WEISMAN
Art and cover by CHRISTOPHER JONES
On sale JUNE 20 • 32 pg, FC, $2.99 US • RATED E
• KOBRA is back – and he's scheming to become a god!
• Don't miss the action as ROBIN, KID FLASH and ARTEMIS tackle MAMMOTH and SHIMMER!
• Guest-starring BATMAN, THE FLASH and GREEN ARROW!
Vandal Savage
DC UNIVERSE PRESENTS #10
JAMES ROBINSON
Art by BERNARD CHANG
Cover by RYAN SOOK
On sale JUNE 20 • 32 pg, FC, $2.99 US • RATED T
• In part two of this three-part tale, KASS works with her father – convicted serial killer VANDAL SAVAGE – to catch a killer before it's too late!
• Is there any way to solve the case without setting Vandal Savage free?
I'm really not comfortable with the way DC seems to be assigning writers full authorial credit with that meek little art credit for the guys who do the heavy lifting.