Click To Enlarge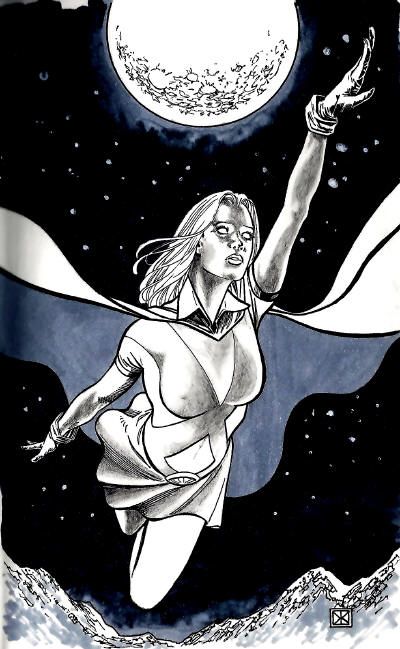 As you may recall, Ben Morse's wife Megan helped inspire the creation of Miss Martian, which in turn led to
"Megan's Sketch Book of Mystery"
. That book was opened by Ben for
The Cool Kids Table
, featuring pieces by Todd Nauck, Bill Willingham, Juan Doe, Franco Aureliani, Dennis Calero, Terry Montimore, and the artist seen above, Don Kramer. Morse writes...
"Another one of those "nicest guys in comics" you're always hearing about, Don Kramer actually lobbied to get a crack at Megan's book, and I'm not gonna say no to somebody with Don's mad skills (and suave good looks). This may look like it took weeks, but Don did it in an afternoon, complete with awesome background and incredible shading. Miss Martian seriously looks like a real figure ready to fly off the friggin' page. This is the kind of care and nuance Don puts into every single commission he does, so if you're at a convention he's attending, do yourself a big favor and track him down (and to the comic book powers that be: give him more work!)."
I was going to get a commission from Don Kramer at Comicpalooza 2011, but I only attended Sunday and he had left early. I started attending all three days of the convention last year, and seeing a piece like this does not dissuade me from continuing that policy.