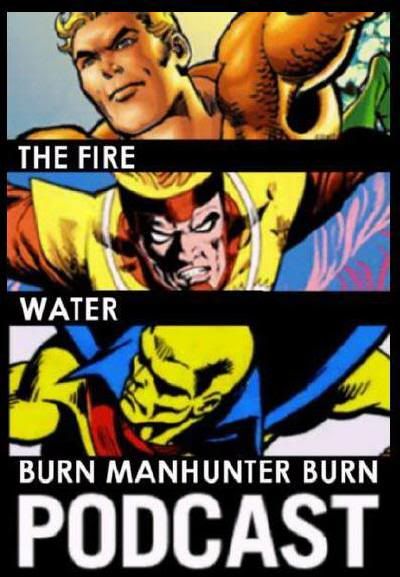 LISTEN NOW!
In September of 2011, Rob Kelly of
The Aquaman Shrine
and Shag Matthews of
Firestorm Fan
teamed-up for
The Fire and Water Podcast
, a weekly program available through iTunes discussing the heroes of their respective blogs and comics in general. To celebrate their fiftieth podcast, the guys decided to scare away their entire audience by inviting me as a guest to discuss a series of comics. Across more than 4½ hours we tackle greater than 100 giant pages of material from the
DC Sampler
, a free promotional comic spanning three issues from 1983-1985. We pretty much review DC's entire line across a three year span, and we don't finishing until the rooster crows! For extra punchy nerdistry, it
can't
should be beat
en
!
You can find the 50th anniversary spectacular episode of
THE FIRE AND WATER PODCAST on iTunes
. While you're there, please drop the guys a review on the iTunes page. Every comment helps! Alternatively, you may download the podcast by
right-clicking here, choosing "Save Target/Link As", and selecting a location on your computer to save the file
(128 MB).
Feel free to read along with us, as the comics are available in their entirety via these devoted tumblr pages:
DC Sampler #1 (1983)
DC Sampler #2 (1984)
DC Sampler #3 (1985)
I also recommend trying "back issues" of the podcast, and offer a linklist below:
Episodes 1-13 Linklist
Episode 14
: "War of the Worlds -- 1984!"
Episodes 15-32 Linklist
Episode 33
: Dan Jurgens Interview
Episode 34
: Aquaman #13 and Firestorm #13 Reviews
Episode 35
: Geek Talk
Episode 36
: The Phantom Stranger
Episode 37
: Firestorm #14 and Aquaman #14 Reviews
Episode 38
: 2012 Year End Spectacular!
Episode 39
: Aquaman #15 and Justice League #15 Reviews
Episode 40
: Firestorm #15 Review
Episode 41
: Geek Talk!
Episode 42
: Justice League, Aquaman, and Firestorm #16 Reviews
Episode 43
: Firestorm Cancellation and Listener Feedback!
Episode 44
: Power Records Showcase!
Episode 45
: Aquaman #17, Firestorm #17, and Justice League #17 Reviews
Episode 46
: Super Powers Collection, Part 2: Vehicles, Cartoons, Comics and Merchandise!
Episode 47
: JLA #1 and Vibe #1 Reviews
Episode 48
: Justice League #18, Aquaman #18, and Firestorm #18 Reviews
Episode 49
: Hostess Fruit Pie Ads, Fury of Firestorm #42, & Listener Feedback