Click To Enlarge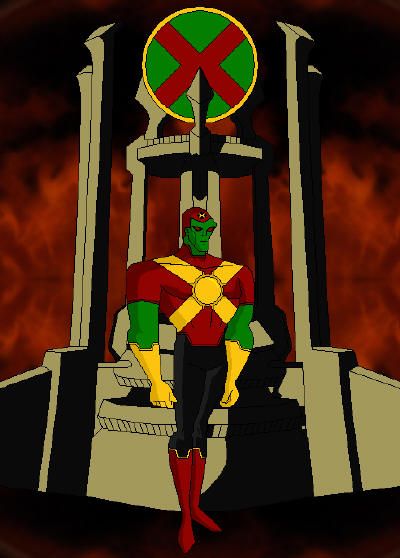 N:TAS DCU: Z'Onn Z'Orr: Roh' Kar 7-14-11
At the
Super Buddies message board
, there's a user under the handle "NightwingTAS" who builds digital figure models off the Bruce Timm DC Animated Series template for further fan fiction adventures of his own devising. Number 9 in the "Z'Onn "Z'Orr" series, here's his take on
Roh Kar, First Lawman of Mars
...
Roh' Kar was a Martian Lawman, who came to Earth 10 years before J'Onn, the Martian Manhunter had. Roh' Kar was sent to Earth to capture an escape criminal. During his mission Roh' Kar discovered that he liked Earth, so once he returned the criminal to Mars Roh' Kar returned to Earth and led a life of globetrotting, along his travels he met a young Bruce Wayne, who was still training to become Batman. Roh' Kar came out of hiding when he heard the mental cry from the Martians being held.
The name variation and "mental cry" would be related to the events in
Martian Manhunter #1 (October, 2006)
. It's funny seeing the guy so beefy.
Also today:
Captain Atom's Family
@
Power of the Atom