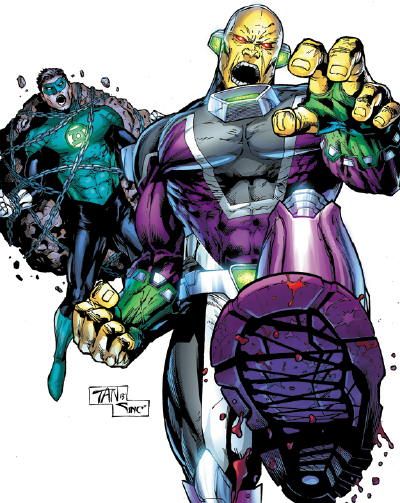 Green Lantern: Mongul #23.2
Written by JIM STARLIN
Art by HOWARD PORTER
3-D motion cover by BILLY TAN
On sale SEPTEMBER 11 • 32 pg, FC, $3.99 US • RATED T

Deep in space, an unstoppable force is committing genocide on a galaxy-wide scale, and only the strongest will survive! Be warned, because nothing can prepare you for an all-new Warworld under the absolute rule of the tyrant called Mongul!
Every time I start to think I could quit DC, they do something like this. Jim Starlin is one of my all time favorite writer/artists, and while I haven't truly enjoyed his scripts in a long while, there will always be love there. Starlin co-created Mongul for
DC Comics Presents #27 (November, 1980)
, a team-up between Superman and the long dormant Martian Manhunter. Starlin continued contributing to Mongul's adventures as the Man of Steel was joined by
Supergirl
,
The Spectre
and
Starman
in dealing with Mongul's machinations. Other creators took to Mongul, most memorably Alan Moore, but the character drifted far from his original conception after the
Crisis on Infinite Earths
. In recent years, creators seemed to take all their cues from the unimaginative Post-Crisis incarnation of the character, or just mine Moore's one story over and over again.
Jim Starlin made Mongul a villainous player with a great deal of potential, which was likely why Alan Moore used the character in the first place, only to see Mongul devolve into a brutal thug. Starlin hasn't written the character in any significant way since 1981, though I
obviously
and some
thoughts
about how that
could have gone down
. J'Onn J'Onzz was the first super-hero to ever face Mongul, and it would be really sweet if he could get himself snuck into this special. Regardless, even with the Green Lantern connection, the inclusion of Warworld and visual cues in his revised costume strongly point to a return to Mongul's early days. Maybe we'll finally get the full story on
The Arkymandryte
? I don't even mind that the artist who killed Mongul in
Underworld Unleashed
is on board, since he drew the guy quite well before Neron snapped his neck. This book seems all about second chances to get things right, and until
Justice League of America #7.2: Commander Blanx
gets announced, this is my #1 pick of the event!